Buy
Sell
Rent
Compare
Bike Categories
News & Infos
Previous ad
Next ad
YAMAHA YZF-R1 Pre-owned
Category
Sport
First registration
01.2018
Motorcycle type
Pre-owned
Colour
black

Mileage
4'600 km
Cubic capacity
998 ccm
Power output
147.3 kW
Driving licence
Kat. A

Condition
very well maintained


Create insurance quote?
Description
Fahrzeugbeschreibung
Elektronik: YEC Kit Kabelbaum und Steuergerät, Translogic Blibber, Starlande GPS Laptimer, Racing Lenkerschalter.

Motor: Akrapovic Titan Komplettanlage, BMC Luftfilter, SLS entfernt, GB-Racing Motordeckelschoner Kit.

Fahrwerk / Chassis: Öhlins NIX30 Cartridge (ab Service), Öhlins TTX Federbein (ab Service), CRC Verschalung, Carbon Rahmenschoner, MRA Scheibe, Carbon Verschalungshalter, Brembo RCS 17 Bremspumpe, Stahlflex-Leitungen hinten und vorne, SBS Dual Sinter Bremsbeläge, leichte Bremsscheibe hinten, Lightech Fussrasteranlage, LSL Stummel, 520 ERV3 Rennkette.


Das Motorrad befindet sich in top Zustand und wird ab Service verkauft.
Vehicle details
Inserat Nr.: 7809971
Rüegg Motos GmbH
Forchstrasse 220
8032 Zürich
Tel:
E-mail: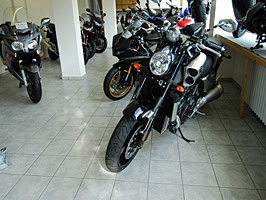 Disclaimer
Sample calculation: For a cash loan of CHF 10,000 with a term of 12 months and an effective annual interest rate between 7.95% and 9.95%, the total costs would be between CHF 420.80 and CHF 523.40. Approval of a loan is forbidden by law if it would lead to over-indebtedness on the part of the customer (Art. 3, Federal Unfair Competition Act). The loan is not tied to a product, property or service. You can use it however you see fit.