Buy
Sell
Rent
Compare
Bike Categories
News & Infos
Previous ad
Next ad
YAMAHA FJR 1300 ABS Pre-owned
Category
Touring
First registration
07.2002
Motorcycle type
Pre-owned
Colour
black

Mileage
42'100 km
Cubic capacity
1298 ccm
Power output
105.5 kW
Driving licence
Kat. A

Condition
beautiful


Create insurance quote?
Vehicle details
Inserat Nr.: 7742761
Rüegg Motos GmbH
Forchstrasse 220
8032 Zürich
Tel:
E-mail: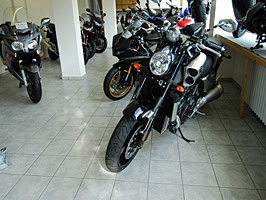 Disclaimer
Sample calculation: For a cash loan of CHF 10,000 with a term of 12 months and an effective annual interest rate between 7.95% and 9.95%, the total costs would be between CHF 420.80 and CHF 523.40. Approval of a loan is forbidden by law if it would lead to over-indebtedness on the part of the customer (Art. 3, Federal Unfair Competition Act). The loan is not tied to a product, property or service. You can use it however you see fit.